How great is the love the Father has lavished on us, that we should be called children of God! And that is what we are!  1 John 3:1
Dear Justin,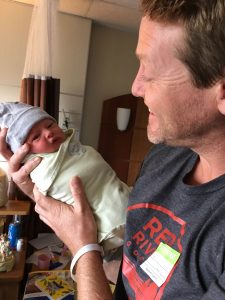 As you hold your beautiful newborn son, Jaxon, I can't help but remember the day you slid into the world with a splash. September 9, 1979; an early morning trip to the hospital with contractions, and three hours later, natal waters gushing with that last mighty push. I'll never forget the obstetrician wiping his face with one hand while  catching you with the other. Your arrival brought laughter into the delivery room and restorative joy into my heart. New life. New life in the midst of death. My dad had died just two months earlier. You were God's gift – to me, to your dad, your big brother Matt, age 2, and to the entire Deyer family.
How everyone doted on you! We passed you from one set of arms to another—Grandma, Uncle Dave, Uncle Dan, Aunt Julie, then back to me or your oh-so-proud-dad. Amazing, how 9 lbs. of newborn can lift an atmosphere from darkness to light. Your long feet and tiny toes; your perfect fingers; your dimpled chin; your intense blue eyes; your sweet baby smell. Heaven on earth!
And, of course, Grandpa and Grandma Bolduc, Uncle Bill and Aunt Tui loved you from the moment you entered the family, joyful that the family name continued through you. You were a bundle of energy; always kicking and squirming and getting to know the world through all five senses. You were a firecracker! And of course, that is a Bolduc trait!
And now, here you are, a father yourself; beautiful Jaxon William Foster nestled in your arms, eyes wide open. Watching you hold your son is such a clear picture of God's love for us. An unconditional, forever love, spilling over in a wellspring of happiness, joy, and hope for the future.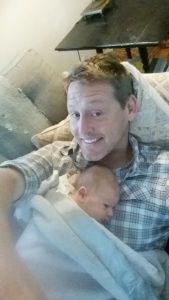 Oh, the adventures that await you as you get to know your son. At not-quite-three weeks, Jaxon is the perfect mix of both you and Elizabeth. He is an eating and sleeping pro. In a few short weeks a totally unique personality will begin to bubble up, amazing you. Yes, he may have your mouth and Elizabeth's eyes, and genes from both the Bolduc and Hawkins lines, but Jaxon's personality will be one-of-a-kind, never seen before or again. Justin, you are in for the ride of your life!
Will Jaxon overflow with energy? Or will his energy be quiet and contained? Will he love sports or music, or maybe both? Will he be an artist? A writer? A soccer player? Will he be the 4th generation to join in the family business? Will he chase chameleons in Florida and try to bring them home to Clifton? Will he be a traveler or more of a homebody?
Today it's a mystery.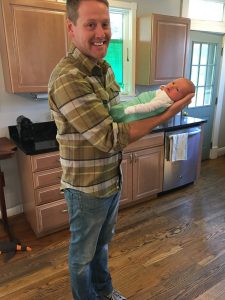 But what is clear – as clear as those mountain streams you love to fish – is your love for him.
Congratulations, son! I'm so happy for you!
Love,
Mom
p.s. A letter to your beautiful wife coming soon!